Transportation & Transfer Service
Pattaya City - Transportation from/to Bangkok Airport and within and out of Pattaya
Our Service Partner for Pattaya Taxi & Transfer Services is opearting 24 hours 7 days a week.
All famous and major destinations such as Bangkok,, Koh Samet, Rayong, Bangsaen, Trat, Koh Chang, Hua Hin, Cha Am, Chanthaburi are serivced.|
Prices are iclusive of service charges and government tax.
On most routes a deposit payment as low as 200 Thai Baht is sufficient to secure your transfer.
Instant Online Reservations and inquries can be made HERE
Other Local and Distance Transportation
Pattaya Baht Bus (Songtaew) 4four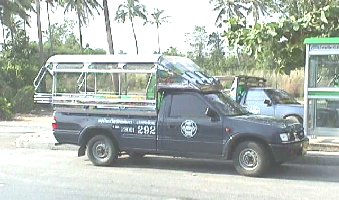 The Infamous Baht Buses of Pattaya. The Philippines have the Jeepnee, we have the Baht Bus ( Songtaew ). The Fare is 10 or 20 Baht for "In Route" and 50 to 100 Baht after bargaining
for a "Hired" ride. But many Tourists have complained of over charging by more than a few drivers of these modified pick-up trucks.
Please Set the Price in Advance and have correct change. We strongly suggest you smile and be overly friendly when bargaining with the drivers.
A Good(Gods) Attitude will Return the Same. If you yell and get angry expect the same or worse in return.
You will learn how to use them in a few days and they really are a bargain for the money. For "In Route" just jump on without saying anything and hit the Bell Switch on the Roof to Stop.
Get off and give the correct Change. Note: If you experience a problem with a Baht Bus driver, remember its number and complain to: Pattaya City Manager # 429-216,
Banglamung District Baht Bus Cooperative # 221-271 or # 423-554.


Motor Cycle Taxi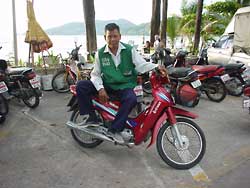 by Motorcycle Taxi
Although it's a Dangerous Ride, it is a lot easier to bargain with the M/C Taxi drivers.
About 20 to 50 Baht for a "Hired" ride. You might want to know a little Thai beforehand,

Bi Cha Cha

(21k) Go Slowly !

Learn to speak Thai


Motor Cycle Rental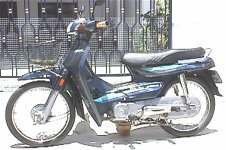 Small Suzuki and Honda motorcycles are the most popular
Photos curtesy of Mai Pen Rai Bike Rental
If you know how to ride a motorcycle then this is the best transportation around Pattaya. You will find many Thai Rental shops on the streets of Pattaya. Also many expats who live here have set up rental businesses for their Thai wives. You will find these shops have not only better prices, but their bikes are better maintained and therefore safer to use. Be Informed that driving a Motorcycle in Pattaya is Dangerous, Go Slow and be Careful. Driving is on the Left Side. You will also need an International Drivers License and a Helmet, and don't forget the kickstand !


Jeep & Car Rental




Nice Jeep for rent




Insured Car for rent
Again you will find many shops that rent jeeps and cars on the streets and Hotels of Pattaya. Try to make sure it has full insurance. It will cost a little more to rent but worth it. Many street shops don't fully insure. When renting any vehicle first walk around it and write down any dents and scratches on the back of the rental form. This will save you problems upon return. You will also need an International Drivers License.


Airport Limousine Bus
3/8 M6 North Rd. About half way down North Road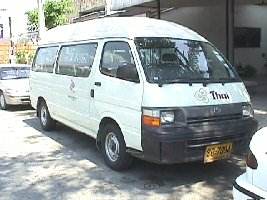 Thai Limousine Tel# 423-140
This is the best way to go. For approx 500 Baht (one way) you will go Directly to Bangkok Airport ( Suvarnabhumi or Don Muang International ). They have both buses and vans. Times are 6:30am, 2pm & 6:30pm to Bangkok and Return 9am, 12noon & 7pm to Pattaya from Don Mung Airport. Look for their booth and waiting lounge inside the airport (arrival). This is also the best way to get to Pattaya. Try to schedule your air flite accordantly. There are also airport taxis at the airport for ~1500 - 2000 Baht.
Pattaya A/C Bus Station
On North Pattaya road near the Highway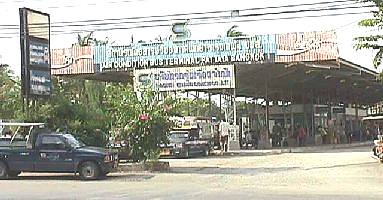 Entrance of the Pattaya Air-Con Bus Station
Air-Con Bus to Bangkok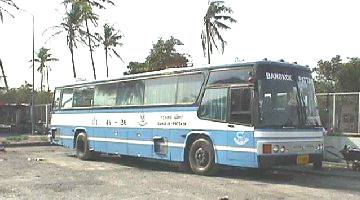 Driving Time to Bangkok ~ 2 1/2 -3 hours.

Pattaya to Morchit Station - Every 30 Minutes from 5:40am to 7:00pm

Pattaya to Ekamai Station - Every 30 minutes from 5:40am to 9:00pm

Airport Bus to Don Mung - 7am, 9am, 11am, 1pm, 3pm & 5pm.

Fare to Bangkok - ~90 Baht. Airport Bus ~250 Baht

Todays Exchange Rates
Sukhumvit Highway Buses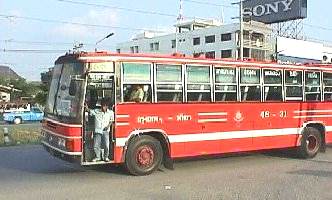 Non-Air Red Highway Bus

There are both air-con and non-air buses that pick up passengers on the Sukhumvit Highway every 10 to 20 minutes all day long. Wait at the bus stops. Pick the air-con buses if you don't like dust ! The drivers of both buses like to play with their horns a lot. If you are not going all the way to Bangkok then use these buses. If you are only going a short way then there are White Baht Buses on the Highway.
White Baht Bus on the Highway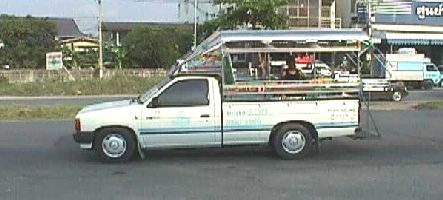 Pattaya Train Station
In Central Pattaya. Across Sukhumvit Road. Off Siam Country Club Road.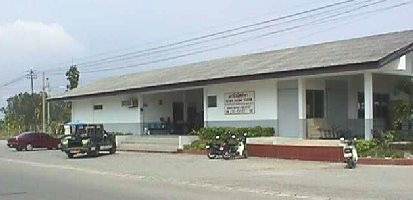 Entrance of the Pattaya Train Station
The Train to Bangkok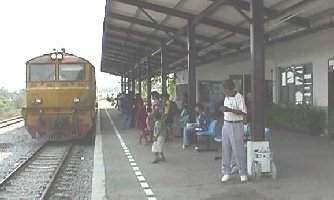 ( not recommended )
Time Schedule
Leave Pattaya - 14:50 (2:50 pm)

Arrive Bangkok - 18:35 (6:35 pm)

Leave Bangkok - 7:10 (7:10 am)

Arrive Pattaya - 10:45 (10:45 am)

Fare to Bangkok - ~100 Baht